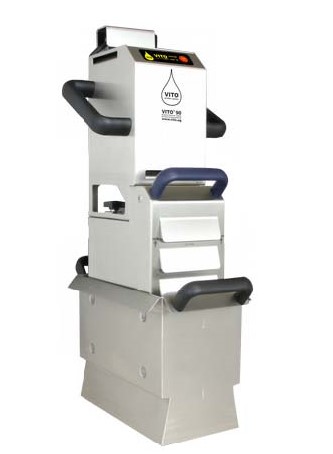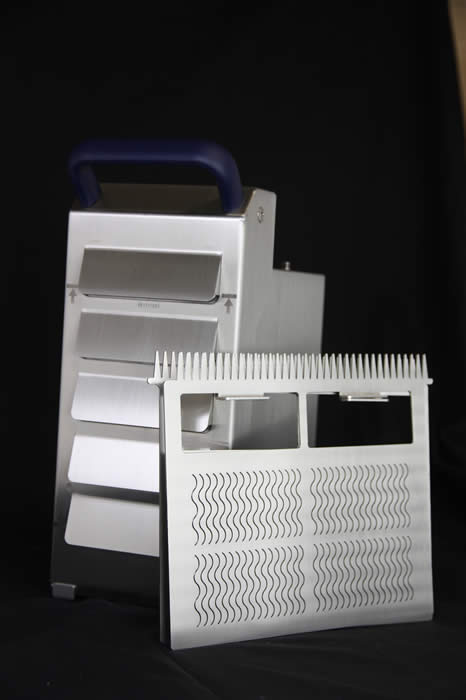 The VITO® 90 can be easily placed into the coolant tank for a fast cleaning without stopping the machines operation:
The patented mechanical micro filtration technology of VITO only requires only a few minutes to cycle the entire coolant sump. The result is a clean coolant, without metal fines, chips and dirt.
Advantages of the VITO® 90
Cleaning and aeration of coolant.
Increased Tool life by filtering out work hardened chips
Longer coolant life and longer intervals between machine cleanings.

Less coolant disposal cost
Less prone bacterial growth and rancidity.

Maintain the interior of the machine and coolant sump free of chips and sludge.
Efficient collection of chips and grinding swarf.
Fast payback of initial investment, through decreased down time.
Fast, automatic filtration, just set it and forget it.
The filter box opens easily without tools for quick and easy filter replacement.
Technical Data:
Filter Box Capacity:  .66 gallons (2,5 L)
Filtration Efficiency: 5-20 μm
Filtration Power: up to 25.1 gallons (95 liters) per minute
Filtration Cycle Time: 4.5 Minutes (adjustable in 30 second intervals) up to 15 minutes
Casing and Filter Box: Stainless steel 1.4301
Max. Power:  .67 HP (500 W)
Power Requirements: 100-120 V, 50 - 60 Hz
Vito 90 Dimensions
Width: 4.57 inches (116 mm)
Depth: 7.28 inches (185 mm)
Height: 19.21 inches (488 mm)
Weight: 20.3 lbs. (9.2 kg)
Shipping Dimensions
Width: 15.75 inches (400 mm)
Depth: 19.67 inches (500 mm)
Height: 9.84 inches (250 mm)
Weight: 28.7 lbs. (13 kg)
VITO® 90 Motor Section
The Filter element can be changed in seconds. Just lay the fiber filter on the saw toothed sections of the internal filter holder. Then close the lid, attach the drive sections and set the Vito 90 into your coolant tank. It's powerful motor will circulate up to 25 gallons of coolant per minute through the filter. Removing metal fines and dirt which causes your coolant to go rancid, deteriorates part finishes and decreased tool life.
VITO Portable Coolant Filtering System Video